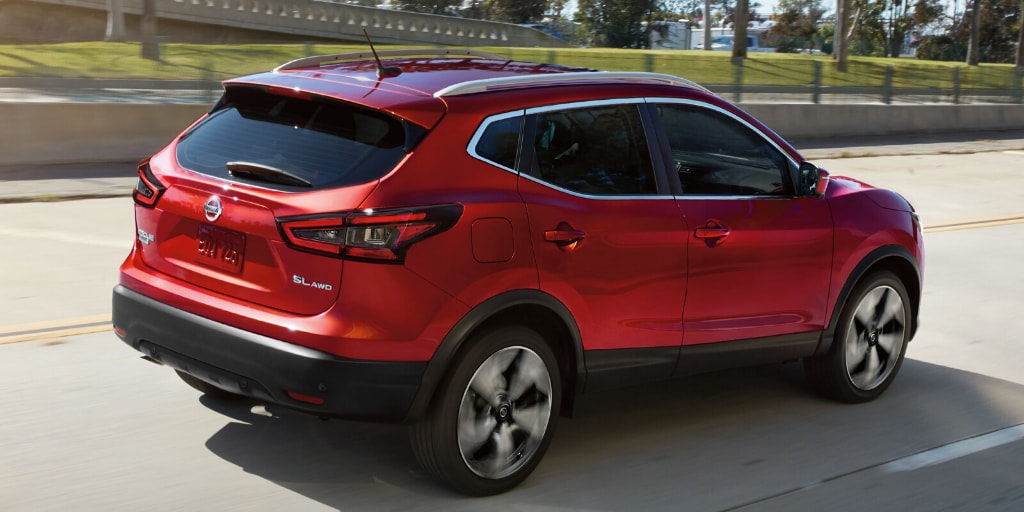 Usually, when browsing a new vehicle, we tend to get distracted by the flashy features, like that high-tech new infotainment system. However, these weren't always the norm and there are other more fundamental factors that should play a role in your buying decision. Dimensions are one factor that influences everything from comfort to fuel economy to steering. Asking about the Nissan Rogue Sport dimensions is important if you're considering this vehicle.
To help you make a purchase decision and to give our findings more context, we'll compare the vehicle to two of its top competitors: the Honda HR-V and Toyota C-HR.
Exterior Nissan Rogue Sport dimensions
The overall exterior dimensions of the Rogue Sport are:
Length: 172.7 inches

Width: 72.3 inches

Height: 62.5 inches
That makes it slightly larger than both the Honda HR-V and Toyota C-HR across nearly all dimensions. Still, the differences are not even one inch in most cases. The Honda HR-V is only slightly taller with a height of 63.2 inches.
That means you shouldn't have much more trouble parking your Rogue Sport than most similar compact SUVs.
Unsurprisingly, it also means that the Rogue Sport is one of the heavier vehicles in its class. At 3,343 LBS, it weighs significantly more than the HR-V (2,096 to 3,150 LBS). However, the C-HR is right on its heels with a curb weight of 3,300 LBS.
This added weight may be a contributor to the Rogue Sport's lower MPG rating. It only gets 25 / 32 / 28 for city, highway, and combined MPG, respectively. On the other hand, the HR-V and C-HR both get around 27 / 31 / 29. However, that's still better than the average vehicle MPG which hovered at 24.9 in 2017.
Wheelbase, track-width, and ground clearance
The Rogue Sport also has a larger wheelbase of 104.2 inches. A larger wheelbase usually results in a smoother and more solid ride, which is a plus for the Sport.
For those who often drive on rough terrain, there is more good news. The Rogue Sport features a whopping 7.4 inches of ground clearance. This is more than most compact SUVs and should keep your car's underbelly safe.
Interior Nissan Rogue Sport dimensions
Seating and passenger room
So, let's see if the Rogue Sport's larger frame means more room to spread your legs.
Like most compact SUVs, the Rogue Sport is a 2-row, 5-passenger vehicle. In the front row, occupants get 38.3 inches of headroom (without a moonroof), 42.8 inches of legroom, 53.4 inches of hip room, and 56.6 inches of shoulder room.
Now, let's compare this with the HR-V and C-HR. As the smallest vehicle, the C-HR has a surprising amount of legroom but overall, has the least amount of interior space. The HR-V is only slightly more spacious than the Sport. And out of all three vehicles, the Rogue Sport offers the most hip room.
It's a similar story when it comes to the rear seat dimensions.
Purely judging by the dimensions, you shouldn't feel a big difference between the vehicles. However, it might be a bit of a tight fit if you sit three in the back with the C-HR's limited shoulder room.
Cargo space
With the rear seats up, the Rogue Sport has 22.9 cubic feet of cargo space in the trunk. By folding down the rear seats, you can almost triple the available cargo space up to 61.1 cubic feet.
The HR-V has 24.3 cubic feet of cargo space which can be expanded to 58.8 cubic feet. In this regard, the C-HR lags far behind with only 19.1 cubic feet expandable to 37 cubic feet.
While the HR-V has the most cargo space, the Rogue Sport balances things out with more extended cargo space by folding down the rear seats. You can actually free up 62.3 inches of cargo length in the Rogue Sport with the rear seats down. That's just about enough to fit in a pair of skis at an angle, plus a bunch of other equipment.
If you regularly make large grocery runs, you'll definitely enjoy a Rogue Sport. And the vehicle also has your back when you need extra space for gear.
A compact SUV that doesn't compromise on space
In most ways, this vehicle is a typical example of a compact SUV. When it comes to the Nissan Rogue Sport dimensions, there is nothing that stands out too much from the crowd. However, the vehicle does feature a sizable amount of extendable cargo space and definitely falls in the top half when considering overall spaciousness.
If you want something similar to the Rogue Sport, remember that the Rogue is a great alternative. It's slightly larger which means a more spacious interior. It also has a slightly more powerful engine.
Now, you know what the dimensions of the Nissan Rogue Sport are and how this affects you. And that should put you in a much better position to decide if it's the right vehicle for you.
Shop Rogue Sport Inventory