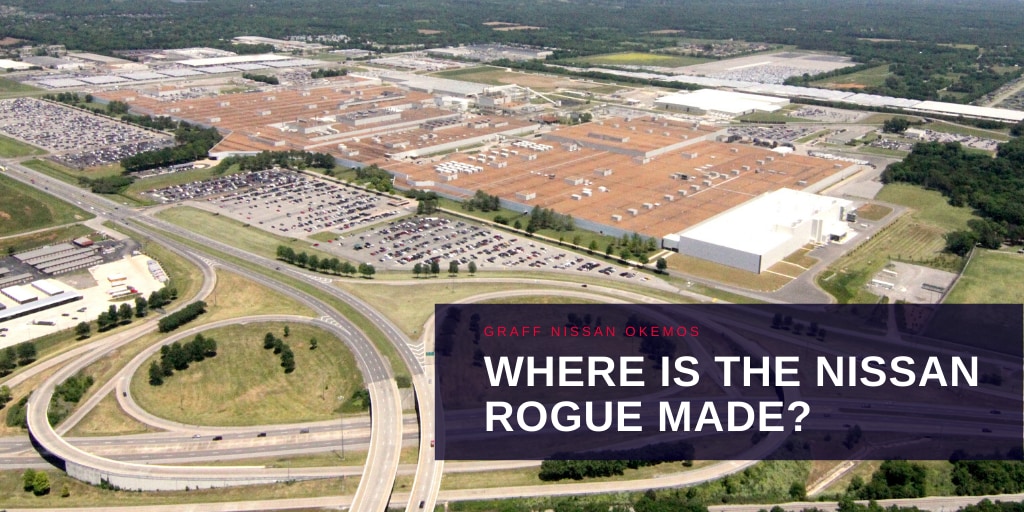 The Nissan Rogue is one of the U.S.'s best-selling compact SUVs. It's been around for some time as one of the most important vehicles in the catalog of Japanese car-making giant, Nissan. If you're shopping for a compact SUV, it's very likely that you've come across this popular vehicle. But, what defines it? And where is the Nissan Rogue made?
Read on to find out a bit more about this compact SUV and its history in the U.S.
Nissan Rogue specification and features
The Nissan Rogue is a compact crossover SUV with 2-row, 5-passenger seating. In terms of pricing, it's a mid-level offering with a starting suggested retail price of around $25,300. The current Rogue comes in three trims: the S, SV, and SL. There is also the Rogue Sport which is a slightly more compact model with a lower price tag.
It features a 2.5L DOHC 16-valve 4-cylinder engine with Nissan's patented Xtronic CVT transmission. All three trims are also available in either front-wheel drive or Intelligent all-wheel drive. The engine puts out 170 HP at 6,000 RPM and it has a city, highway, and combined mileage of 26, 33, and 29 MPG, respectively.
It also comes with an incredible amount of safety features thanks to Safety Shield 360. These include:
Automatic emergency braking with pedestrian detection

Rear automatic braking

Rear cross-traffic alert

Blindspot warning

Lane departure warning

High beam assist.
All of this combines to make the Rogue one of the top-ranking and best-selling compact SUVs in the U.S.
So, where is the Nissan Rogue made?
The Nissan Rogue is made in Nissan's Smyrna plant in Tennessee, Texas. It has been in production at the Smyrna plant since 2007.
This was Nissan's first auto manufacturing facility in the U.S., and it began production in 1983. Currently, it employs around 8,000 people and has an annual capacity of around 640,000 vehicles. Other popular Nissan models produced at the Smyrna plant include the Altima, Pathfinder, and the hybrid Leaf.
Located on an 884-acre property, the facility itself encompasses 6 million square feet. And around $6.8 billion has been invested in it.
Nissan opened its second facility, the Nissan Canton Vehicle Assembly Plant in Mississippi in 2003. The Nissan Altima is also produced here as well as the Frontier and Murano, but not the Rogue. It employs roughly 6,000 and produces around 450,000 vehicles a year.
With 35 years of production in the Smyrna plant and 15 in the Nissan Canton plant, Nissan celebrated 50 combined years of manufacturing on U.S. soil in 2018.
Nissan also runs two other engine manufacturing plants, one in Decherd, Tennessee and the other in Canton, Mississippi. In total, Nissan's automobile assembly capacity in the U.S. is more than 1,000,000 vehicles per year.
The history of the Nissan Rogue
The Nissan Rogue was unveiled at the North American International Auto Show in Detroit in 2007. It was introduced as a more compact and less expensive SUV option in the North American market than the existing Xterra. In many other markets, it's branded and still known as the Qashqai, although it's basically the same vehicle.
The Nissan Rogue has evolved during its 10+ years in production and is currently in its second generation.
The first generation was in production from 2007 to 2013. In 2011, Nissan gave the first generation a major exterior and interior facelift. Nissan introduced the special Rogue S Kr?m as a more aggressively styled and sport-tuned option.
In 2013, the first generation was rebranded as the Rogue Select. And it was produced and sold alongside the second generation Rogue as a lower-level entry model.
The Nissan Rogue is still currently in its second generation which was unveiled in 2013 and sold from 2014 on. With the second generation, the Rogue also officially replaced the X-trail in the U.S. and Canada. However, the X-trail still exists to this day in certain other markets. It was inspired by the Hi-cross concept which was popular in the North American market. And it featured optional third-row, 7-passenger seating.
Despite superb performance in NHTSA Crash Test Ratings, the second generation continued adding safety features. Nissan also updated the design on almost a yearly basis.
In 2017, Nissan released the special edition Rogue One Star Wars Limited Edition, inspired by the 2016 film, Rogue One. Since 2017, the Rogue Sport has also been released alongside the conventional Rogue. It's a more compact option with a slightly less powerful engine based on the international Qashqai. It's also slightly more affordable with a sportier look and feel.
Nissan Rogue - One of the U.S.'s leading compact SUVs
What's great about the Nissan Rogue is that it's not only a superb compact SUV, but it's also manufactured on American soil. That means you can rest assured your purchase is supporting industry and job creation in the U.S. Hopefully, you now have some more context on the vehicle's history and specifications, and also know where the Nissan Rogue is made.