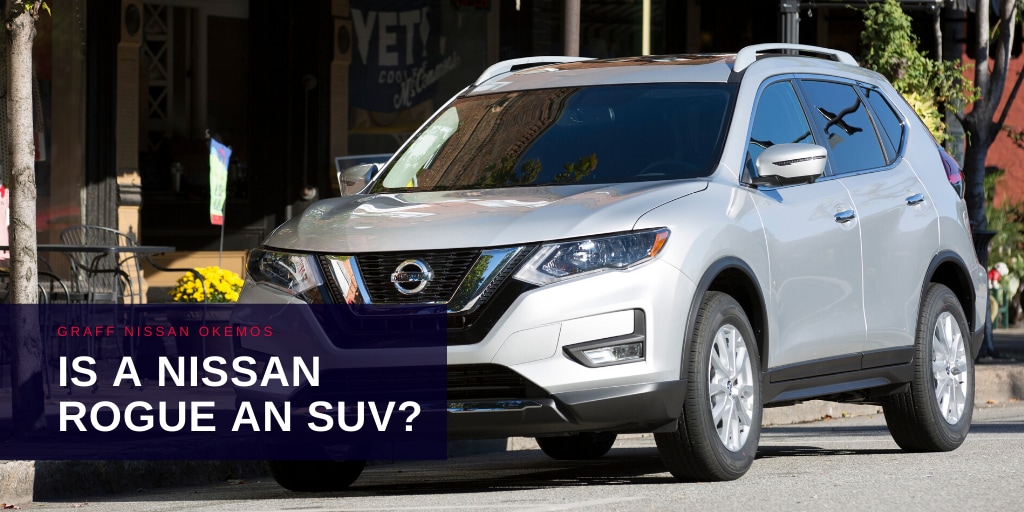 Shopping for the right vehicle for your family can be a challenge. Your hard-earned money and time are going into this big investment. But you want to be an informed buyer. And as you're considering purchasing a Nissan Rogue, you're wondering — is A Nissan Rogue an SUV?
Of course, it makes sense that you would want to know the ins and outs of a vehicle before you take the plunge. Parting with money in exchange for a product you're going to depend on is no small step.
For the family or individual who finds benefit in an SUV, you don't want to compromise and go for a sedan. And that means we need to tackle the question, "Is a Nissan Rogue an SUV?"
Is a Nissan Rogue an SUV?
So is a Nissan Rogue an SUV?
In short, yes. A Nissan Rogue is an SUV. But it's not just an SUV — it's a compact SUV. A compact sports utility vehicle is larger than a mini SUV but smaller than a mid-size SUV. Other compact SUVs on the market include the Honda CR-V, the Toyota RAV4, and the Ford Escape.
If you're familiar with those models, then you have a good idea of just how big a Nissan Rogue is in contrast to a mid-size SUV like the Toyota Highland, Ford Explorer, or Nissan Pathfinder.
It's a good size if a car is too small and a mid-size SUV is too big. Without being cumbersome, the Nissan Rogue will give you a peppy ride and haul your belongings.
What makes the Nissan Rogue a winning SUV
We've answered the question, "Is a Nissan Rogue an SUV?" And we've sung the praises of the compact SUV in its versatility. But what about the other winning aspects of the Nissan Rogue?
Let's take a look at some of them. We think you'll be impressed.
Keeping your precious cargo safe
In the Nissan Rogue, you can drive with confidence. In a world of distraction, you get 360-degree protection via Nissan Intelligent Mobility technology. This gives you peace of mind as you travel with your most prized cargo — your kids.
The features in Nissan Intelligent Mobility keep up with what's in front of you, behind you, and on either side. These features kick in when needed to keep you and your cargo safe.
The National Highway Traffic Safety Administration gave the Nissan Rogue a four-star overall safety rating. Talk about confidence!
Technology the whole family can get behind
For a peppy ride in style, you'll love how the Nissan Rogue incorporates technology for entertainment. Smartphone connectivity provides music and an easy way to field texts and calls. There are two USB ports for music and charging — but don't forget about the hands-free calling with Bluetooth.
Put on your favorite playlist and let the party begin.
Or if you prefer ingesting information while you're on the road, put on your favorite podcast or news stations. You'll love the bells and whistles on the Nissan Rogue steering wheel for control of your entertainment.
There's also an advanced drive-assist display that provides caller ID or turn-by-turn directions in front of your steering wheel. Keep your eyes where they need to be while juggling important information pertinent to your journey.
Cargo space for the busy family
We talked about safety. We talked about entertainment.
But what about cargo space? As you're zipping around town, you'll love knowing that your Rogue can accommodate whatever it is you need to bring with you. The 60/40 2nd-row split-folding seats can help make this happen. And the Nissan Divide-N-Hide storage solution will help you stay organized, wherever it is you need to go.
Be open to adventure knowing your family is safe, entertained, and prepared to dine into whatever awaits. Adventure is out there. What are you waiting for? The mountains are calling.
Are you ready to drive an SUV built with precision?
Is a Nissan Rogue an SUV? You bet it is. And it's an SUV that is built with precision. Having a vehicle that will get your family where it needs to go is paramount.
Load up the family and visit your local Nissan dealership today. Want to delve more into the details surrounding this stellar SUV? Learn how much a Nissan Rogue will cost you. It's a bargain of a vehicle that will do more than only get you from point A to point B. A vehicle's origins is another important factor to consider — do you know where the Nissan Rogue is made?