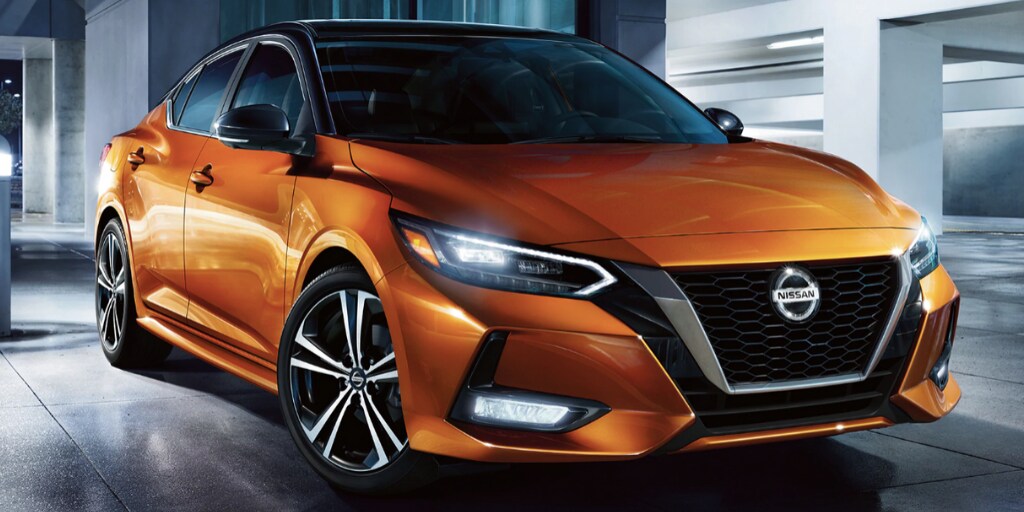 The Sentra is Nissan's entry into the compact sedan market. It has been around since 1982 in some form or another and is one of the first vehicles that come to mind when one pictures a Nissan. In a day and age dominated by hot hatches and compact crossover SUVs, you might wonder if the Sentra is still relevant. Phrased another way, what does the Nissan Sentra have to offer?
Starting out it was Nissan's entry-level sedan, but the Sentra has grown somewhat over the years. Although still marketed and positioned by Nissan as a compact car, it's rated a mid-sized car by the EPA. In fact, the Nissan Versa has replaced the Sentra as Nissan's entry-level, subcompact offering.
A little about what the Nissan Sentra has to offer
With a slightly bigger build, it's a more spacious option than some of its competitors with relatively generous cargo space. It's a typical 5-seater with a 60/40 split-fold rear seat arrangement. The 38.9 and 36.7 inches of front and rear headroom, respectively, (along with 56.4 inches of rear shoulder room) are more than enough to comfortably seat at capacity. The trunk also features 14.3 cubic feet of cargo space which can be enlarged by folding down the rear seats.
However, it hasn't always been at the forefront of low mileage with current ratings of 29 MPG city, 39 MPG highway, and 33 MPG combined.
It features a 2.0-liter Direct Injection Gasoline™ (DIG) DOHC 16-valve 4-cylinder engine with Nissan's Xtronic CTV (continuously variable transmission) technology. A manual version no longer is available.
The Sentra still takes a slot below vehicles like the Altima and Maxima in terms of size and price.
The Honda Civic, Hyundai Elantra, Mazda 3, Toyota Corolla, and Volkswagen Jetta are all considered direct competitors.
The Nissan Sentra also comes in three trims: the S, SV, and SR.
Some of the more noteworthy features of the Nissan Sentra according to their trims are:
As you can see, the main difference between the trims mostly comes down to comfort and aesthetics. However, the upgraded LED headlights have some practical value.
What's changed for the 2020 Nissan Sentra?
The 2020 Nissan Sentra is the first edition of the 8th generation of this long-lived vehicle.
Although the new exterior styling is the first thing you'll notice, the changes run much deeper.
Compared with previous models, the 2020 model overhaul is not just a superficial facelift—it's a complete revamp.
Manual transmission is no longer available while the trims have been reorganized into three options only.
In general, Nissan has slowly been updating most of their lineup with bolder, sportier, more aggressive looks. The Sentra is no exception and is now much closer in appearance to the larger Altima and Maxima. You can make its new looks even more exciting with two-tone color options.
Underneath, the 2020 Nissan Sentra sits on a brand new platform and is powered by a brand new engine as well. Subcompact sedans tend to lag behind in the power, grip, and overall ride stability departments. Many ascribed some of these issues to the earlier Nissan Sentras.
Nissan seems to have listened and addressed most of these issues. For one, they replaced the torsion beam rear suspension with an independent rear suspension system—improving stability and ride comfort along with the new platform. Furthermore, they upsized the 1.8L engine to a 2.0L engine.
Most reviewers agree that this results in a much more pleasant, and even fun, ride.
The 2020 model also retained what was good about the previous models. For example, relatively large trunk space, spacious seats, and a user-friendly infotainment system.
Nissan Sentra—Is it the compact sedan for you?
At first sight, Nissan Sentras seem to occupy a strange position in the market. They're smaller than more popular cars like the Altima but bigger than hatchbacks. However, one thing you have to keep in mind is affordability. The Sentra costs almost a full $5,000 less than its big brother, the Altima, and costs about as much as the subcompact Nissan Kicks.
How the Nissan Sentra rates
However, the Sentra is still a decent day-to-day vehicle with most of the same accessories and better fuel economy. It's also a fairly reliable vehicle with the 2019 model scoring an 81 from J.D. Power for quality and reliability. Although it's too early to score the 2020 model, we have every reason to believe it will do even better. With the improvements to the 2020 model, the Nissan Sentra is the little car that can.

Shop Nissan Sentra Inventory