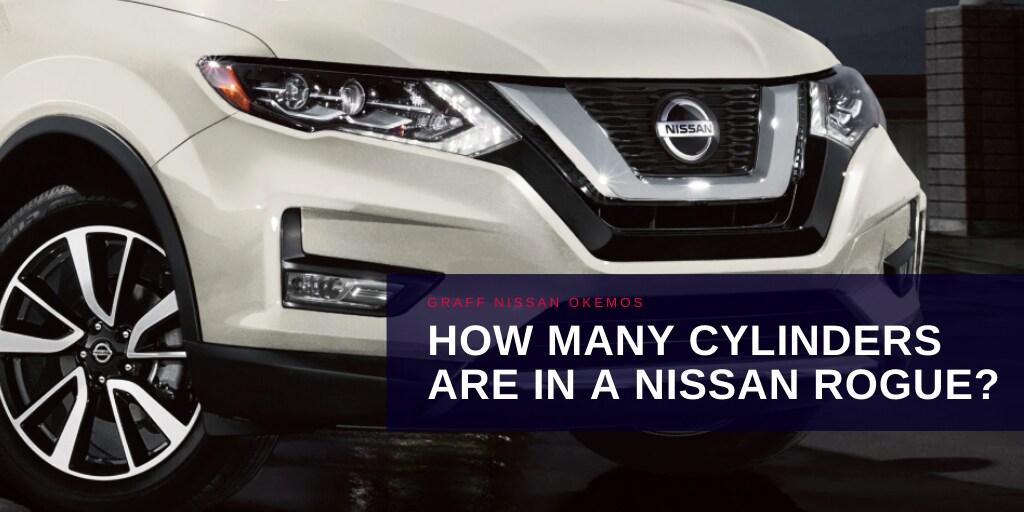 The hunt for the ideal vehicle can be wearisome. We get it, we've been there. It's time to change out your vehicle for something new or buy a trusty vehicle for your loved one. Questions abound, but today we want to zero in on one in particular — how many cylinders are in a Nissan Rogue?
Well, we're glad the Nissan Rogue is interesting to you. It's a peppy little SUV, made for both the city and the adventure that waits beyond it. There's plenty of space for your gear — whether it's your sports or camping gear or groceries for your tribe. The Nissan Rogue will get you places in style, that's for sure.
But what about the vehicle's cylinders? How many cylinders are in a Nissan Rogue?
Well, buckle up. We'll answer that and more.
How many cylinders are in a Nissan Rogue?
How many cylinders are in a Nissan Rogue? The Nissan Rogue comes equipped with a 2.5L 4-cylinder engine.
This 4-cylinder engine is smaller than the 6-cylinder engine. Four-cylinder engines are found in cars, small trucks, and small SUVs (like the Nissan Rogue). They're typically straight-lined in shape as opposed to v-shaped like the majority of 6-cylinder engines. Full-size SUVs, sedans, and large trucks typically carry a 6-cylinder engine.
What do cylinders mean to the vehicle shopper?
For the consumer, what does this knowledge mean? Why do cylinders matter?
The bottom line is that a 6-cylinder engine is bigger and weighs more, packing more power for moving bigger vehicles and for hauling. On the flip side, a 4-cylinder engine is smaller and offers better fuel economy. It's also more affordable for maintenance and repairs.
If you don't need to haul anything heavy on a regular basis, the 4-cylinder may be your best bet. These engines are adequate for a small family or for commuting purposes.
Cylinders aren't the only characteristic that makes a vehicle appealing
In the Nissan Rogue, you'll find the best of both the world of the SUV and the world of the small car. The Nissan Rogue is a compact SUV and that means it's small enough and big enough for your day-to-day activities. Need to shop at your local garden center? The Rogue will help you haul your stash of plants and garden supplies. Want to go camping? There's enough room in here for your tent and supplies.
Technology the whole family can get behind
You asked how many cylinders are in a Nissan Rogue. But that's not the only feature to consider. In the Nissan Rogue, you'll find a party on wheels. Make your commutes all they can be with Apple CarPlay and Android Auto connectivity.
In the 2020 Nissan Rogue, you'll find a nine-speaker premium audio system with Nissan Connect services. This enables you to listen to your favorite playlist or podcast while getting things done and going on adventures. Travel in style with the Nissan Rogue — your style.
Who's ready for a party on wheels? Take calls from family members while you're on the road and have the conversations that matter with those you love. Distance and busy lives shouldn't stop you from connecting.
The Rogue beats its competitors
But don't take our word for it. The Nissan Rogue is outdoing its competitors like the Honda CR-V or the Toyota RAV4. Think about it — the Rogue has more legroom than the CR-V.
Heated front seats are in the base Nissan Rogue model but not in the base Honda CR-V. Safety features like lane departure warning are standard with the Nissan Rogue — and that's a feature lacking in the CR-V.
As far as the RAV4 goes, it carries a base starting point of $25,850 while the Nissan Rogue starts at $23,000.
While they both have nice tech, the Nissan Rogue can brag about its Divide-N-Hide cargo system — excellent leverage of space in a compact vehicle.
Adventure in the Nissan Rogue, it's more than just about the cylinders
Now you know how many cylinders are in a Nissan Rogue. But do you know if you're ready to take the plunge and buy the Rogue? Buying a new vehicle can cause apprehension, but it's something that needs to be done, and something that can increase your quality of life going forward. It's good that you're taking your time to read up on the various facets of vehicles you're interested in.
Dig deeper into the Rogue
Consider setting an appointment with your local Nissan dealership. The Nissan Rogue is a worthy vehicle for you and your family. Why not go see it in person? It's only a drive away. To learn more about the Nissan Rogue, learn about how much mileage you can put on it and other interesting FAQs.