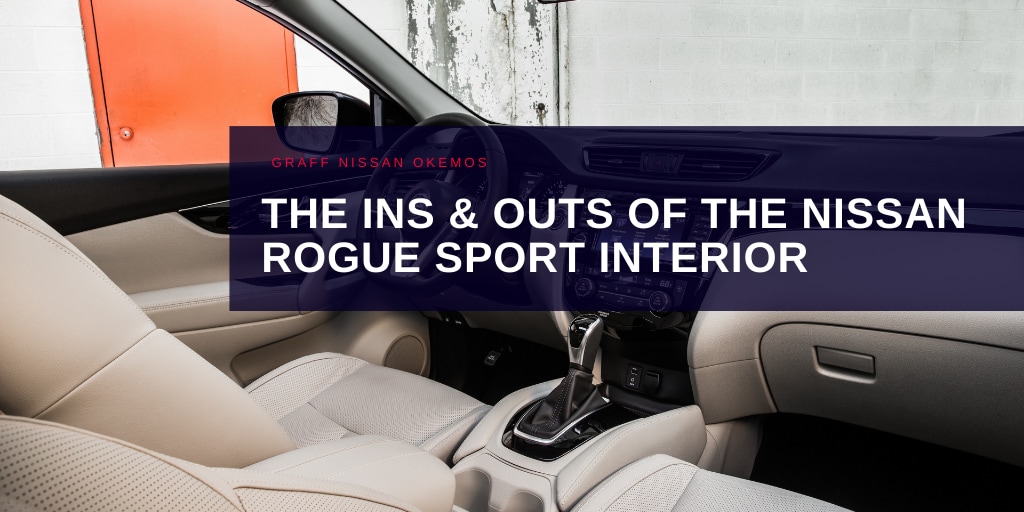 With models like the Nissan Kicks, Nissan is starting to forge a reputation as one of the popular car brands with great design. Judging a book by its cover, the Rogue Sport continues that trend with a sporty, yet elegant, shape. But, what's the Nissan Rogue Sport interior like? Does the inside match the outside?
Let's take a closer look.
Nissan Rogue Sport interior first impressions
The first impression of the Nissan Rogue Sport interior is definitely spot-on with the name. The dashboard is kitted out with a sleek gliding wing design. It has a certain flow to it that's somehow graceful and sporty at the same time.
We particularly like the central part of the dashboard. The entertainment system is clearly visible and conveniently within reach for both front passengers. The designers have also created a satisfying flow from the air conditioning vents to the console to the gear stick.
As soon as you hop in, you also immediately get the roomier feel thanks to the Rogue's generous interior dimensions.
Overall, the Rogue managed to cater to a wide audience. It's certainly hip enough for the younger generations while maintaining a sophisticated edge that will appeal to older generations as well.
Everything looks well-built, and it generally feels that way as well. Some parts are hard plastic but it doesn't exactly feel cheap like some other cars (ahem, Ford Escape).
Plenty of interior color and fabric options
The Rogue Sport also comes with plenty of styling options for the picky buyer. The first choice you'll have to make is whether you like an all-black or two-tone finish.
The monochrome black options consist of charcoal leather, premium charcoal cloth, or the entirely black charcoal cloth.
However, for us, it's the two-tone options that really stand out. For this, you can choose between the light gray leather or premium light gray cloth. The contrast between the black and light finishes just brings a whole new dimension to the interior and gives it a livelier feel.
What interior tech does the Rogue come kitted out with?
Like most cars, exactly what features you get depends on which model you go with.
As far as speakers go, you can get a standard 4 or 6-speaker system with the S or SV, respectively. With an SL, you get upgraded to a premium Bose sound system with 9 speakers and dual woofers which will dramatically improve your listening experience.
All the basics like Bluetooth, Apple CarPlay or Android Auto, satellite radio, CD and AM/FM playback are also built-in.
The Siri button is placed within easy reach of your thumb on the steering wheel which is convenient and safer.
All the safety features we've come to expect of cars in this class are also included. Think rearview camera, pedestrian and proximity detection, lane departure warning, and parking camera.
One niggling thing—we wish rear USB chargers were standard. But those are available for people seated in the front.
Optional interior accessories
Here are some of the most notable optional interior accessories for the Rogue:
Frameless auto-dimming rearview mirror: On top of having a few cool utility features, this optional rearview has a gorgeously sleek design. Like Ray-Bans for your car.

Illuminated kick plates: You can add a stylish kick plate to your door sill—with an aluminum finish and an illuminated Rogue logo. It makes getting in safer and protects your door sill.

Carpeted floor mats: High-quality floor mats that can be fastened to the floor and can have an optional charcoal finish.

All-weather floor mats: Mats that protect your car's floor from any weather and come with a hook-fastening system.

Cargo area protector with first aid kit: Also available in a charcoal finish.

All-season cargo area protector: All-weather and wear and tear protection for your cargo area.

Cargo net: To help keep items in place with extra cargo cables/hooks.

Dual rear USB charger ports: This is standard on some competitors but can be optionally added for the Rogue.

Wireless phone charger: Conveniently positioned under the infotainment system and behind the gear shift.
Nissan Rogue Sport interior dimensions and seating
A mid-sized 5-seater with plenty of leg (and head) room
The Nissan Rogue is a mid-sized 5-seater crossover utility vehicle. Within its class, it has pretty generous interior dimensions. Unlike some cars whose dimensions vary according to the trim, all Rogue Sports have exactly the same measurements.
Front passengers have 42.8 inches of legroom and 33.4 inches of headroom. Back seat passengers should also be able to find enough space with 33.4 inches of legroom and 38.3 inches of headroom.
When trying to squeeze more than four people in most sporty CUVs, space becomes a problem. However, the Rogue should make this a slightly more comfortable affair with 46.9 and 55.7 inches of hip and shoulder room, respectively, which is more than most competitors.
If you do go with the moonroof, you have slightly more headroom at about 39.6 inches for the front and 38.5 for the back, respectively.
To add to its flexibility, you can expect the same 40/60 split-folding rear passenger seat standard for CUVs.
What about cargo space?
Turns out the Rogue Sport didn't compromise on cargo space to give passengers room to stretch out. The Rogue Sport comes with 19.9 to 22.9 square inches of cargo space, depending on what trim you choose.
That may seem slightly less than one of its main competitors, the Honda HR-V, but this is a sports version. With the rear seats down, you can get as much as 61.1 square inches of cargo space which is more than the most you can get with the HR-V.
Nissan Rogue Sport interior—hit or miss?
For us, the Nissan Rogue Sport interior is a definite hit. There may not be anything extraordinary about its features or materials, but it's definitely well above average for its class. It looks sharp, has a quality feel, is roomy enough for five without sacrificing cargo space, and doesn't skip a beat when it comes to the must-haves.