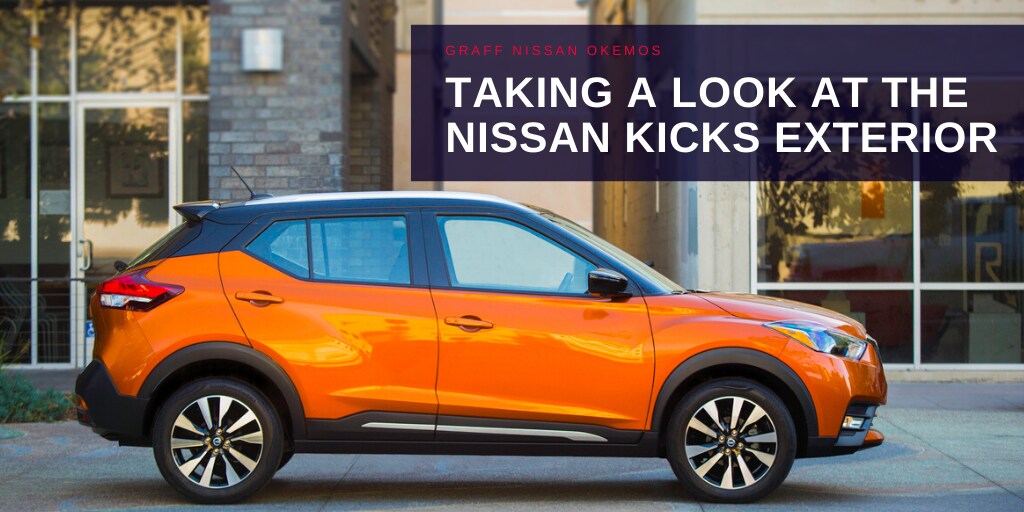 You don't need us to tell you that the Nissan Kicks exterior is great to look at. This little compact utility vehicle doesn't shy away from the spotlight with its bold and aggressive shape and distinct colors. Part of the reason it looks so unique is that it gives the customer the ability to tailor its look to their preferences. So, let's dig a little deeper into what makes this car so special.
What are the Nissan Kicks exterior customization options?
This vehicle's claim to fame is that it's one of the few cars in its class that allows you to extensively customize its appearance before you buy it.
Depending on which trim you go with, there will already be a few cosmetic differences. The SV comes with sleek 17" aluminum-alloy wheels while the SR comes with LED headlights and accents and a rear roof spoiler. The last two aren't just for looks, but they do bring something new to the exterior.
Although picking a car in a color of your preference is nothing new, the Kicks gives you a bit more artistic freedom. On top of a number of individual colors, you can also pick a combination of two colors.
For example, you can choose white and black, gunmetal gray and orange, orange and black, etc. The main color covers most of the car's body, while the secondary color is mainly for the roof. You can choose completely separate colors for the side mirror caps, door handles, front and rear bumper accents, roof spoiler, and even your rims.
You can play around with the "Color Studio" tool to choose exactly what your Kicks will look like.
Nissan Kicks exterior features and accessories
It's not just the looks that you can customize on the Nissan Kicks exterior. You can also add some extra utility with a bunch of handy exterior accessories.
You can add all these individually or as part of any of their exterior packages for a few hundred bucks extra. The "Exterior Package" is for those that regularly use their Kicks to transport stuff, like their sporting equipment. It comes with:
Roof rail crossbar

Rear bumper protector to prevent scratching your car when unloading from the back

A stainless steel exhaust finish, which is mostly for looks.
There's also the "Exterior Electronics Package" which comes with ground lighting and rear sonar to help you avoid any clumsy accidents.
LED fog lights, window rain deflectors, and splash guards are also convenient options that make it a bit easier to deal with bad weather.
You can even go as far as to opt for a chrome license plate frame, stem caps, and wheel locks for a flashy finish.
Ok, so what about the interior?
Just like the exterior, you have a decent amount of leeway to customize the interior of your Kicks, too. You can choose colors for accents like the air vents, door sill plates, and floor mats. The interior also matches the exterior when it comes to the modern and sporty look and feel that will be especially attractive to a younger crowd.
The two upholstery options are also appealing in their own ways. There are the charcoal sports cloth and charcoal Prima Tex options which both have stitching or accents in colors of your choice.
To really wow your passengers, you can also switch on interior lights with 20 different pre-programmed colors.
What's under the hood of the Nissan Kicks?
As hard as it is to tear away our attention from the Nissan Kicks exterior, no one can disagree that the engine is the most important thing about a car. All trims come with a 1.6L DOHC 16-valve 4-cylinder engine with 122 horsepower.
That might not seem like a whole lot, but this is a pretty compact CUV which means those horses go a long way. It's got decent pull away from a standing start, but it may take you a while to build up to top speed.
The engine is paired with Nissan's Xtronic CVT (continuously variable transmission), a seamless (or transitionless) automatic gearbox.
A relatively light engine and body also mean this car has great fuel economy with 31/6 city/highway MPG.
Other important Kicks features:
Infotainment system: Android and Apple support with Siri Eyes Free, Bluetooth connectivity, and 3 USB ports as well as an optional high-performance sound system.

Nissan Intelligent Mobility: A suite of driver aid tools like proximity sensors and alerts to help keep you aware and accident-free.

Cargo space: 25.3 cubic feet in the trunk that goes to 32.23 cubic feet with the rear seats down.
A feisty SUV with looks to match
There's no arguing with the fact that the Nissan Kicks exterior demands attention. With a sporty body and unique color combinations, you'll definitely make an entrance driving it wherever you go. The car also doesn't disappoint when you see it from the inside. Give it a drive and test out all its high-tech features!