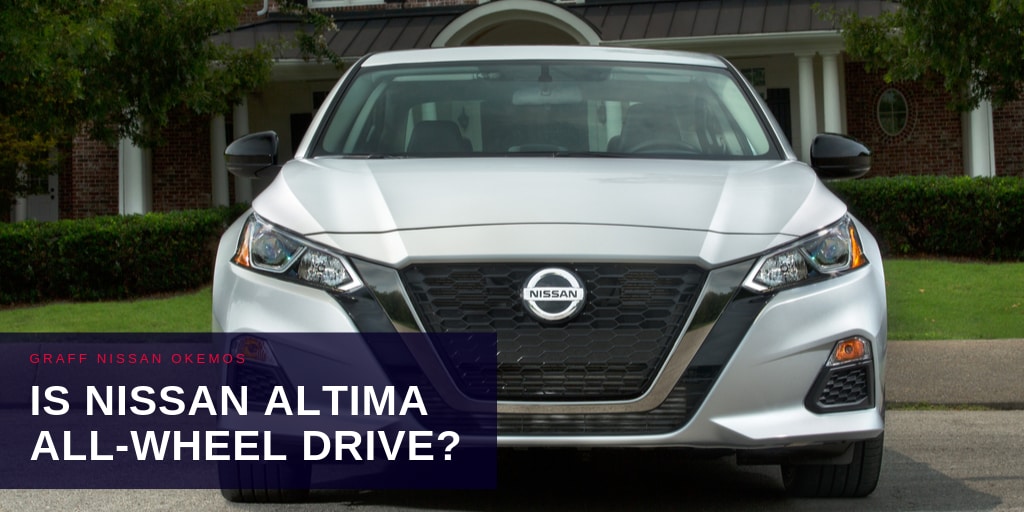 If you're on your way to buy a Nissan Altima, you're probably already trying to choose the best trim. Or you might have heard good things about all-wheel drive and are considering it for your new vehicle. If that's the case, you're probably now asking yourself "Is Nissan Altima all-wheel drive?"
And, more importantly, what does that mean for your buying decision?
In this article, we'll help you answer both of those questions.
So, is Nissan Altima all-wheel drive?
When you ask the question, "Is Nissan Altima all-wheel drive?" the short answer is "Yes." The Nissan Altima does come in both FWD and AWD options and has done so for some time. To that effect, you won't have to buy the newest model to get this feature.
However, the Altima doesn't come with just any old AWD train. It comes with Nissan's patented Intelligent AWD technology.
This is part of their Intelligent Mobility package that comes with most of their new vehicles. Other features of this package are driver assist and safety features like parking and lane merger assist as well as proximity sensors.
Intelligent AWD builds on this. It's an adaptive technology that can switch power between wheels on the fly. On the open road, this can help you save gas by only driving two wheels.
Intelligent AWD can also help you in adverse conditions by monitoring the surface conditions and adapting accordingly. For instance, this can help you out in snowy conditions.
What to consider when buying an all-wheel drive Altima
Which trims are available in AWD?
First of all, you can't get all the Altima models in AWD. The models that are excluded from having all-wheel drive are the SR-VC Turbo and the Platinum-VC Turbo.
The difference between the two is that the standard SR and Platinum come with a 2.5 Litre DIG (Direct Injection Gasoline) engine and the VC Turbo options come with a 2.0 Litre variable compression turbo engine. Respectively, they put out 182 HP @ 6,000 RPM vs. 248/236 HP @ 5,600 RPM.
If you have a need for speed, you'll probably want to opt for one of the FWD Turbo options. Although the effect is much smaller, the AWD versions all come with 182 HP engines instead of 188 HP engines.
Fuel economy
On top of giving up a bit of power, you'll also need to sacrifice a bit when it comes to fuel efficiency. The AWD Altima S is rated at 26 MPG in the city and 36 on the highway. The Platinum is rated at 25 MPG in the city and 35 on the highway. That equals a combined MPG of 30 for the S and 29 for the Platinum.
With the FWD S, you'll get 28 MPG in the city and 39 MPG on the highway for a combined MPG of 32. With the Platinum, the figures are 27 MPG in the city and 37 MPG for a combined MPG of 31.
That means, on average, you'll get 2 miles per gallon less if you go with either AWD version. The simple reason for this is that it takes more thrust to power 4 wheels than 2, and this is normal for AWD cars.
For reasons not quite clear, the AWD versions also come with a slightly smaller 16-gallon fuel tank.
Trailering and offroad
Surprisingly, two-wheel drive vehicles generally have higher towing ratings than four-wheel drive vehicles. The reason for this is that 4WD vehicles are slightly heavier, which means more weight gets subtracted from their overall towing capacity.
However, AWD is, of course, better if you want to drive offroad. Hopefully, you're not planning on using your Altima sedan as an offroad vehicle, but it might come in handy for that once-in-a-while visit to your cabin in the woods or for something similar.
Safety
The jury's still out when it comes to whether all-wheel drive cars are really safer than front-wheel drive. Some argue the difference is so small, the false sense of security you get from driving an AWD is more dangerous.
Generally, there is no real reason to believe you'll be safer in an all-wheel drive vehicle.
It is generally accepted that AWD cars have an advantage in the snow. This is because they have better traction which means better control in adverse conditions. However, that doesn't mean you can do without snow tires, particularly in a family sedan like the Altima.

As we mentioned, Nissan's Intelligent AWD technology stretches this advantage a bit further.
Price
If you're planning on buying an Altima, opting for an AWD won't break the blank. The AWD versions do cost about $1,350 more than their FWD counterparts. That's just about a 4% increase in the overall price.
So, you'll need to decide whether this is a worthwhile investment for you based on your preferences.
What to choose?
Now that you know the answer to your question, "Is Nissan Altima all-wheel drive?" you may feel that deciding whether or not to get an AWD vehicle is the next question. With not much to choose between the two, especially in regards to price, opting for AWD is mostly a personal decision. If you live in an area that experiences snow and you want a safer drive, it's definitely worth considering. However, if you want the extra power of a turbo engine, then you'll have to go with the FWD.
Shop Nissan Altima Inventory