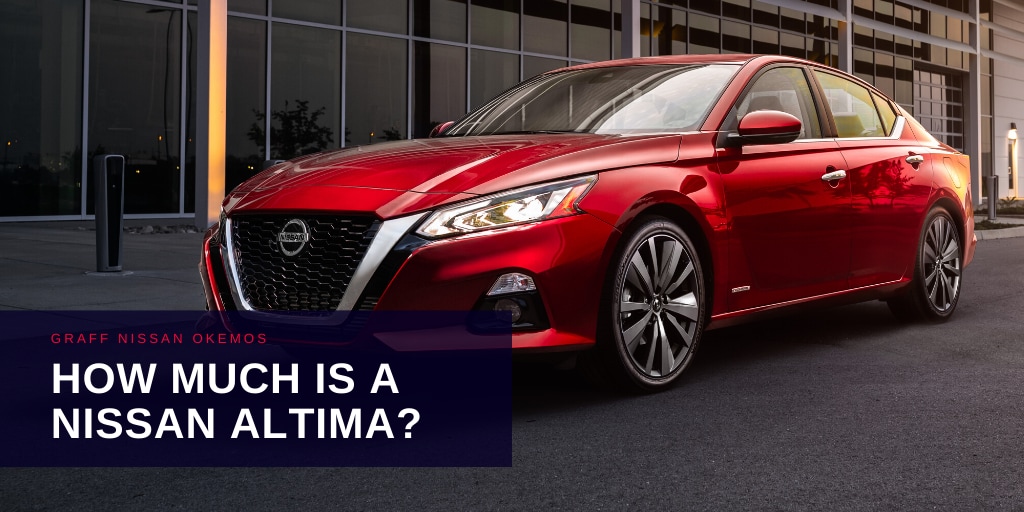 How much is a Nissan Altima? Although it might seem like a simple question, when it comes to buying a car, the answer is usually a bit more complex.
There are plenty of initial and over-time costs to weigh when considering buying a new car. The Nissan Altima is no exception, and in this guide, we'll highlight all the most important cost-influencing factors for you.
How much is a Nissan Altima?
All in all, there are 12 different trims of the Nissan Altima available. You can find a brand new 2002 Altima with a starting MSRP of anywhere between $24,100 and $35,180. That price range is almost exactly in line with its closest competitors like the Honda Accord and Toyota Camry. A cheaper alternative to all of these is the Hyundai Sonata.
When comparing them to the competition, the lower-end Altimas are great value for money. Many features like Android Auto, collision warning sensors, automatic emergency braking, and USB Type-C outlets come standard while they are not available or come at extra cost with the other cars.
The Altima is also one of the only mid-sized family sedans in this price class with AWD, although it will cost you one or two grand extra.
If you're going for the S, the Driver Assist package with pedestrian detection, rear cross-traffic and sonar system, and high beam assist is highly recommended. However, these features come standard with the pricier trims.
The Platinum is the premier option with all the bells and whistles. ProPILOT Assist, Intelligent Around-View Mirror, and Bose premium audio system with noise cancellation are just some of the most tempting reasons to fork out for this trim.
Both the SR and the Platinum can also be upgraded to the 2L VC Turbo engine (FWD only). This provides a significant boost of almost 60HP.
What charges should I be aware of?
When you buy a new car, the MSRP (Manufacturer's Suggested Retail Price) is only the beginning. You'll most likely also be subject to taxes, destination handling charges, title, and license fees.
For the Altima, your first year of tax should be around $1,100 with around a $100 charge every subsequent year. Handling and delivery fees usually amount to just over $1,000 as well. Registration and title fees depend on your state but are $225 or $95 at most.
So, all in all, you could end up paying $2,500 more than the MSRP depending on your needs. Extras, like one of the packages or accessories like a rear spoiler, alloy wheels, or ground lighting can be a few hundred to a thousand dollars each.
Lease or financing options can make buying an Altima more affordable. Currently, the APR for buying an Altima is around 2.9%. You'll still need to make an initial down payment of around 9% (between $2,000 and $3,000), but your monthly installments can be as low as $375 over a 60-month period. A lease is usually slightly more expensive, and you'll have to stick to your yearly mileage allocation.
How much will gas cost driving the Altima?
In addition to wondering how much is a Nissan Altima, you might also be curious about the cost of fuel. The base Altima has an MPG rating of 28 for the city and 39 for the highway with a combined MPG of 32. Due to a difference in weight, the SR and SV models perform one or two miles per gallon worse. As per usual, the AWD options perform another one or two points worse.
The least economical option is any of the Turbo engine trims. With these, you'll only get 3 MPG in the city and 34 on the highway for a combined MPG of 29.
With a daily commute, the average driver racks up about 13,476 miles per year. At the current fuel price per gallon, that equates to about $1233 a year.
What is the cost to own a Nissan Altima over time?
On top of taxes and fuel, you'll also have to factor in your maintenance and repair costs. According to YourMechanic, the average annual maintenance cost for Altima owners is around $343. Edmunds' estimates are bit higher at around $700 per year for the first five years, minus minor repairs.
In all honesty, this will vary dramatically from person to person depending on how you drive, how much you drive, where you drive, and pure luck. However, Nissans are relatively affordable to repair and to replace parts.
Is the Nissan Altima worth the price?
The Nissan Altima is one of the USA's most popular mid-sized sedans with good reason. It's affordable, has most modern conveniences and safety features, and comes in a solid range of trims. The S or SV are particularly good value for money with a number of standard features that usually cost extra. We hope that this answers the question of how much is a Nissan Altima so that you can make a buying decision with confidence.
Shop Nissan Altima Inventory