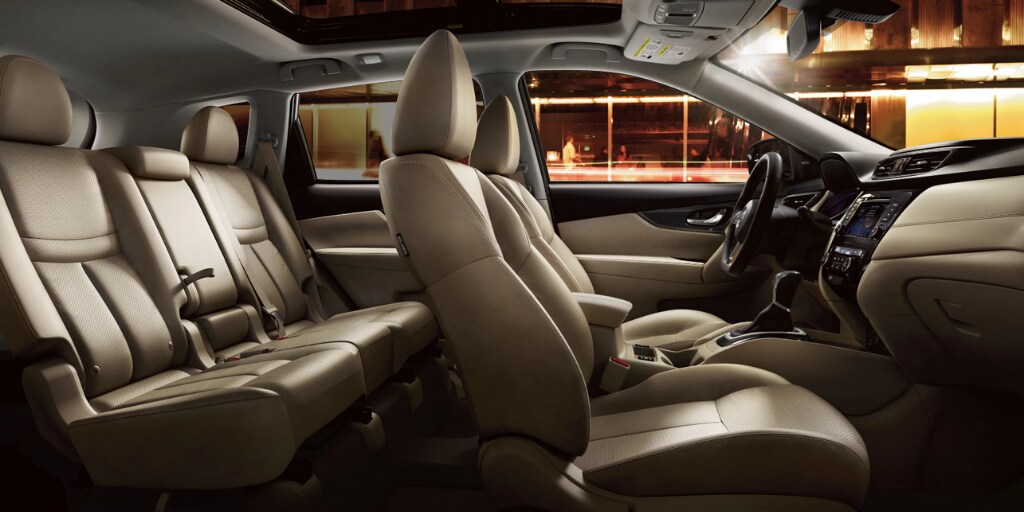 In hunting around for the right vehicle, there are two groups whose opinions are paramount. Will both drivers and passengers be comfortable with the vehicle? And why is it important that drivers and passengers are comfortable? Well, let's look at the statistics. Afterward, we'll answer the question, "is Nissan Rogue a good car for drivers and passengers?"
It's important that you find yourself—whether a driver or passenger—comfortable in the vehicle you choose.
A vehicle is more than four wheels. We have to look beyond the exterior and see if it's what you need it to be—solid and dependable.
Is Nissan Rogue a good car for drivers & passengers?
According to the AAA Newsroom, Americans spend 70 billion hours per year in a car. That's a substantial amount of time per year. With so much time spent on the road, there's more risk of being in a car accident.
That only confirms that you're right for wanting a good car for drivers and passengers alike. Every time you get behind the wheel, you're susceptible to finding yourself in a road-related accident. This could be due to weather, wildlife, or other drivers.
We're not into fear-mongering, but the reality is that you need a car that will keep you safe. Even when an accident does transpire. Or even a car with features that will help prevent an accident.
Additionally, with so much time spent on the road, drivers and passengers deserve comfort. And the desire for comfort in a vehicle is nothing to scoff at.
So with that in mind, is Nissan Rogue a good car?
A good car in the Nissan Rogue
Is Nissan Rogue a good car? Well, we think so, and we'll show you why. The Nissan Rogue exhibits quality features in both safety and comfort. Drivers and passengers both will be pleased by the Nissan Rogue.
Features that prevent accidents
As far as preventative measures go, the Nissan Rogue surrounds you with confidence.
Nissan Intelligent Mobility monitors everything that's in front of you, behind you, to your left and to your right. On the Rogue SV (and above), the following Nissan Intelligent Mobility features are standard: automatic emergency braking with pedestrian detection, rear automatic braking, rear cross traffic alert, blind spot warning, lane departure warning, and high beam assist.
Features that protect
In case you do find yourself in a car accident, the Nissan Rogue comes with some advanced safety features for your benefit. The air bag system includes "roof-mounted curtain side-impact supplemental air bags with rollover sensor."
There is a host of other features to keep you safe during some risky situations. For example, there's the Vehicle Dynamic Control (VDC.) If you slip and find your car going where you don't want it to go, the VDC feature will kick in and respond. How? It will gauge and apply the appropriate amount of engine output or brake pressure to particular wheels.
The cabin itself is high-strength thanks to the advanced body construction. It's impact-absorbing, keeping your passengers safe.
Features for comfort
In addition to the safety features that contribute to peace of mind and thereby provide comfort, there are other features to get excited about.
First, let's talk about the Nissan Rogue's Divide-N-Hide® Cargo System. The system is located in the back of the vehicle—it's an adjustable set of shelves and dividers that provide various cargo options. You can keep your belongings in the back and free up space in the front.
But that's not the only action happening inside the Nissan Rogue's cabin. There's the BOSE® premium audio system that gives you a concert in your vehicle. And let's not forget the intelligent climate control feature. It knows when to defrost windows. Plus, the heated seats are stellar. The front seats, inspired by astronauts, are created to "help reduce fatigue."
In the Nissan Rogue, one travels in both comfort and style.
A good vehicle for everyday adventures
So is Nissan Rogue a good car for drivers and passengers? We think so. And we hope you understand why.
There's plenty to see and plenty to do as you go about your week. The Nissan Rogue will do more than just get you there.
More on the Nissan Rogue
Now that you have the answer to your question, "is Nissan Rogue a good car?" you may wish to read up further on this vehicle if you're still on the fence. We've talked about the Nissan Rogue's weight. You'll see that we've also discussed the number of miles a Nissan Rogue can take on before it breathes its last. For more on all things Nissan, peruse our site. You'll find a collection of invaluable helps in understanding the Nissan vehicles.