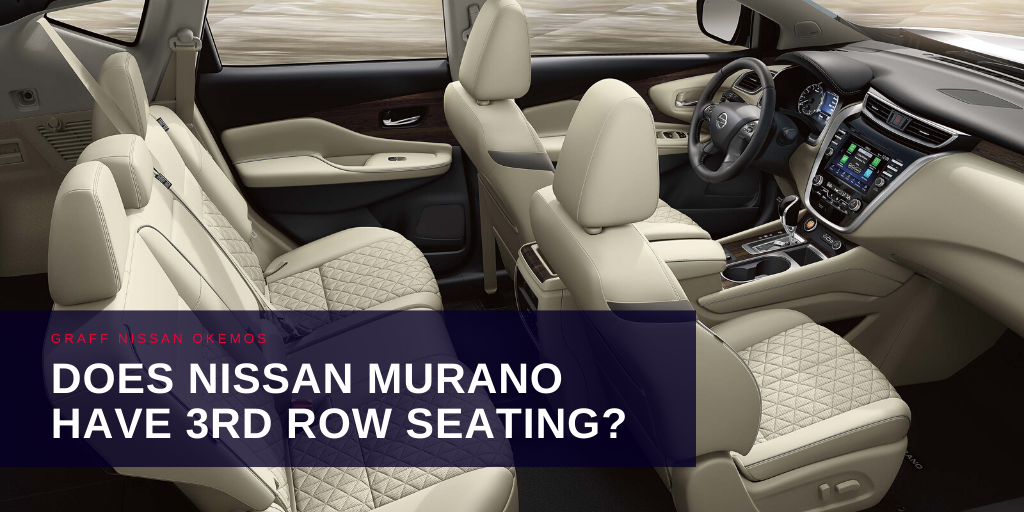 Crossover/Compact Utility Vehicles (or CUVs) are becoming increasingly popular because of their ... well ... utility. Most can seamlessly switch between the city and the great outdoors or between kids in the back and a sizeable load of cargo. If you're already full-house in your current 2-row/5-seater and you need some extra space, you might wonder, "does Nissan Murano have 3rd row seating, and will it accommodate your needs?"
So, does Nissan Murano have 3rd Row Seating?
In short, no, the Nissan Murano does not have three rows of seating. The Nissan Murano is a compact utility vehicle with five seats spread over two rows. Like most two-row cars, it can accommodate a driver and passenger in the front and three passengers in the back.
The back seat also follows the conventional 60/40-split fold-down configuration. So, you can adapt your seats depending on how many kids you need to take with you on your grocery run or your family trip—while still fitting in all your cargo.
In that way, it's more comparable to other CUVs like the Honda CR-V, Chevrolet Equinox, and Ford Escape.
With 40.5 inches of legroom in the front and 38.7 inches in the rear, it's pretty much on par with these competitors. The same goes for the 39.9 and 39.8 inches of front and rear headroom. It does have slightly more hip room than the Escape with just over 55 inches for the front and back. And, you get almost two inches of shoulder room more in the front and back than both the CR-V and the Escape.
While that's great news for families, the Murano will set you back a few grand more than either of those.
What to expect from the interior
The standard Murano features a 6-way adjustable driver's seat while anything from the SV up features a 10-way adjustable seat with 2-way lumbar support. All trims feature a 4-way adjustable passenger seat. With the standard trim, all seats are manually adjusted. However, they are powered with the higher-end trims.
The SV and SL also come with heated front seats while the Platinum gets full climate control. Heated outboard seats are also built into the SL and Platinum trims.
A nice, unique touch with the Murano's rear seats is that they can actually recline too. The standard trim's seating is upholstered with cloth while the SL comes with leather and the Platinum with semi-alanine leather seats for a more au naturale look.
From an aesthetic perspective, the interior won't be for everyone. Nissan went for understated elegance with a mostly monotone off-white filled interior with hints of treated wood. It does have a plush and premium look and feel, but some might find it a bit too old school. On the upside, it has a surprisingly airy feel for a CUV on top of actually being spacious as well. It should keep the claustrophobia at bay even during long trips.
Which Nissans do have 3rd Row Seating?
Now that you know the answer to your question, does Nissan Murano have 3rd row seating, you may be interested in other Nissan vehicles. If you're looking for a Nissan, but only two rows is a dealbreaker, then there are some other options. Of course, if you're looking for three rows, you're already heading towards full-blown SUV territory:
First, there's the Pathfinder. This is a Nissan classic and has been around for some time. It can seat a maximum of 7 people. Rear seats folded down yields a maximum of 79.8 cubic feet of cargo space.

Second is the Armada. This full-size SUV can take on any challenge. It's a 3-row 7-seater with a 2, 3, 3 seating arrangement. To give you an idea of its size, with 3rd row seats folded down, you have a massive 95.1 cubic feet of cargo space.

The Nissan Rogue is a crossover similar to the Murano. However, it's slightly larger in size with an optional trim for older models that feature third-row seating.
What about cargo space?
Of course, the most important thing is that everyone can fit in your Murano. The next most important thing to consider is how much cargo you can fit.
With the rear seats up, the Murano has 35.1 cubic feet of available cargo capacity. That should easily accommodate even large grocery runs and maybe one or two pieces of small furniture.
With both the rear seats folded down, that expands to a maximum of 67 cubic feet of cargo room.
The Murano also has a maximum towing capacity of around 1,500 lbs so you'll be able to hitch a small towing bed or trailer or micro standee.
To Murano, or not to Murano—that is the question
Unfortunately, if you were interested in this vehicle but wanted to know does Nissan Murano have 3rd row seating, the answer is still no. However, it is a spacious 5-seater crossover that should seat comfortably at full capacity. If you still need that 3rd seat, there are other great options from Nissan that can seat up to 8 passengers.