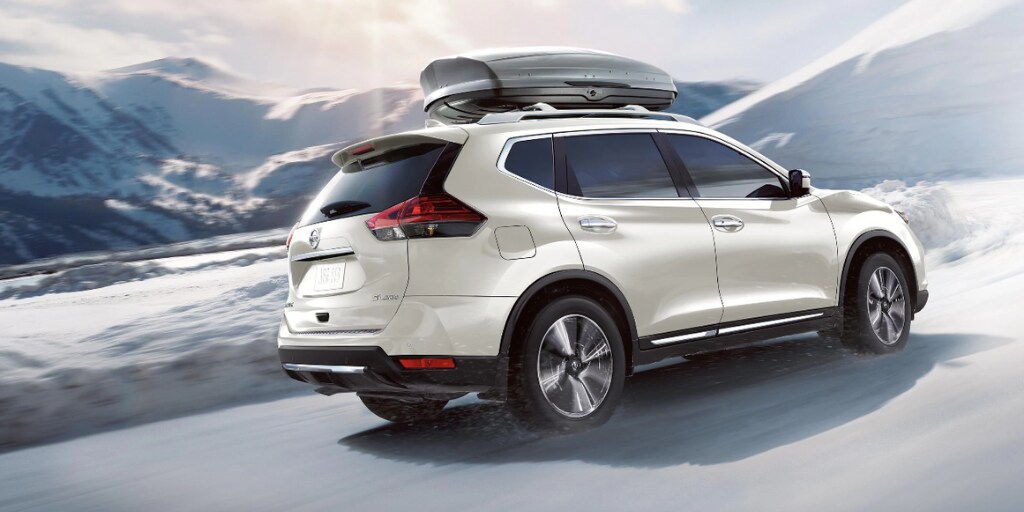 Hello, cold weather season. We've been expecting your icy streets and foggy mornings. With some of us living in rather cold and harsh winter climates, it's prudent to ask how the Nissan Rogue handles in harsh conditions. Is Nissan Rogue 4 wheel drive? Is it up to the task when it comes to dealing with less than desirable weather conditions?
We'll answer those questions about the Nissan Rogue and showcase some of its safety features. You may be surprised at how much this little compact SUV can handle.
Now let's get to your question about 4 wheel drive.
Is Nissan Rogue 4 Wheel Drive? How Does It Handle In Harsh Conditions?
So is Nissan Rogue 4 wheel drive?
To answer your question, yes, you can get a Nissan Rogue with 4 wheel drive. While every Nissan Rogue model does not come equipped with 4WD, it is indeed an available option.
This means the Rogue can serve you well in harsh road conditions. Sleet? Rain? Snow? Ice? The Nissan Rogue will get you through your day. Four wheel drive means that power is being channeled to all four wheels for better traction. This makes the Rogue a worthy vehicle for the day you need to go to work, regardless of the accumulating snow. For the individual who lives in a community where the slick roads don't put a damper on the day-to-day grind, this is important.
Obviously, discretion is advised. Four wheel drive will still require that you're careful in how you brake. And it's up to you to decide when to stay in for the day. Bad weather is what it is—bad weather.
At the end of the day, you must take responsibility for the consequences of going about your day on slick roads.
The weather outside is frightful …
So is Nissan Rogue 4 wheel drive fit to handle harsh conditions on the road? You bet it is fit for the task!
But you should know that the Nissan Rogue is still a vehicle, albeit a solid vehicle.
Vehicle batteries and some vehicle liquids don't get along well with the cold weather.
So here's a tip: regardless of the vehicle you choose, ensure that you check that your battery has a good charge before winter starts. An old battery will drain in a flash during the winter. You should drive your vehicle a few times a week.
There are other tips out there for winter vehicle care. Be sure to read up on what's important. If you take care of your vehicle, it will take care of you.
Safety features for the win!
Now let's look at some of the safety features that come with the Nissan Rogue. You'll be impressed at what care is put into ensuring driver safety. It's a wonderful assortment of features that help prevent accidents and features that will help protect in the case of an accident.
Safety all around
Here's what's happening in the 2019 Nissan Rogue. You get anti-lock brakes, stability control, front-impact airbags, side-impact airbags, overhead airbags, pretensioners, anti-whiplash, and a security system.
Vehicle Dynamic Control
With Vehicle Dynamic Control, if you hit a slick spot, the system will kick in and monitor steering and breaking. As needed, it will reduce engine output—it'll even apply brake pressure when and where needed. That's comforting!
Nissan Intelligent Mobility
Nissan Intelligent Mobility will integrate with your smartphone. This is good news for keeping up with weather information through your phone. You can connect your phone to the Rogue's screen and speakers.
Ready for adventure, regardless of "weather permitting"
So is Nissan Rogue 4 wheel drive? It is. And we've discussed some of the wonderful safety features that come with the Rogue and how that can benefit you during harsh conditions.
Thanks to safety features, your family is in good hands. And let's not forget about that 4 wheel drive—it'll get you places. In most cases, it will deliver, even when everyone else around you is stuck.
The Nissan Rogue will take you where you need to go—to the grocery store, the mountains, your kid's ball game. You name it. Adventure is out there, in the big and little things.
More on the Nissan Rogue
So we discussed, "is Nissan Rogue 4 wheel drive?" But this may not be your only question. If you'd like to learn more about the Nissan Rogue, see how it shapes up compared to its competitors. And have you considered the sport edition of the Nissan Rogue? You may just be impressed by its features.
Shop Nissan Rogue Inventory