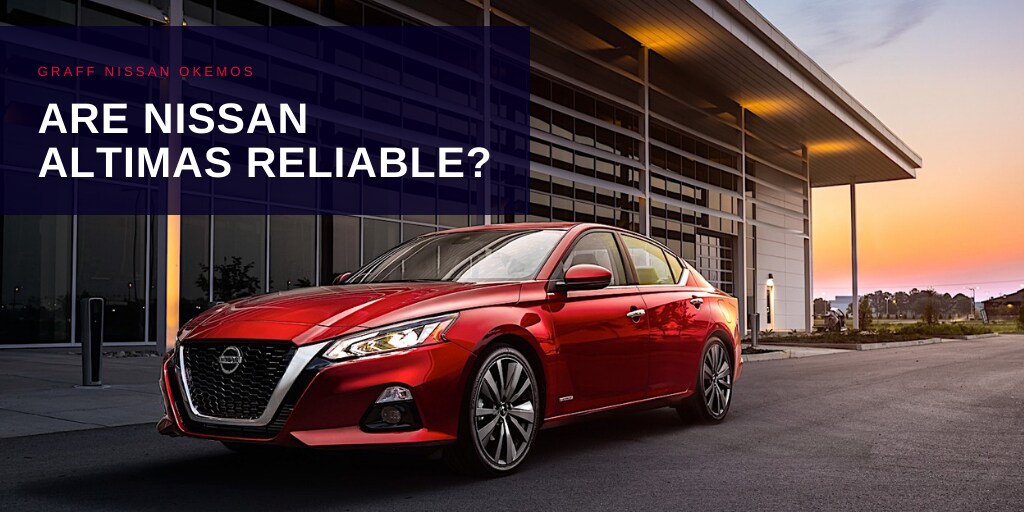 Are Nissan Altimas reliable? That's probably the first question you will ask yourself if you're considering this car.
After all, there are few things as frustrating as regularly having to check your car in to get fixed, particularly if you need it for your daily commute. As a midsized sedan, this is probably the role you're hoping it will play. Which means that reliability and long-term dependency are of the utmost importance.
We've tried to dig up whatever we can on the Nissan Altima. Our goal is to give you the confidence to say yes or no to it as your new car.
Are Nissan's reliable?
Let's start with the brand itself. Nissan is certainly one of the most recognized car manufacturers in the world. Along with Toyota, they are probably one of Japan's most widely driven cars. Japanese cars are generally known for their dependability, especially their long lifespans. And Nissan is no exception.
According to the Reliability Index, Nissan came 9th out of the 32 car brands under consideration, putting them comfortably in the top third. Nissan, as a brand, also came 10th for reliability according to a 2017 Telegraph survey.
Also, according to research by Mojo Motors, Nissan cars came 6th overall when it came to keeping their value. On average, Nissan cars only depreciate to $0 in value at 195,593. Consumer Reports named it the 14th most reliable car brand in 2019.
Nissan scored a very average 137 problems per 100 vehicles in their 2019 U.S. vehicle Dependency Study (the industry standard was 136). However, the 2018 Nissan Altima received a superb 84/100 J.D. Power Score with the 2019 model yet to be rated.
What does history have to say?
The father of the modern automotive industry, Henry Ford, might've said "history is bunk", but that's not always the case. The history of a model can tell us a lot about what we can expect from that line in the future.
The Nissan Altima has a relatively clean slate. There are no major recalls in the model's long history with the first models dating back to 1993. The biggest incidents were mostly related to the 2002 models where excessive oil consumption led to catastrophic engine failure. However, this generally happened to cars that clocked over 100,000 miles or were older than eight years.
In 2015, Nissan was almost sued by owners for faulty floorboards in the 2002 to 2006 models. Once again, the case was thrown out because most cars were past their warranty.
Other than that, there have only been minor recalls related to faulty window wipers, door latches, etc. and not really to do with overall reliability.
How much mileage can I get on a Nissan Altima?
Checking car sales websites for second-hand vehicles is often a good way to get an idea of the lifespan of certain models. On one popular website, we found four Nissan Altimas in running condition with over 300,000 miles.
Even reaching 200,000 is a significant milestone. We came across almost 80 cars with over 200,000 miles - also in running condition. Many of these are also models from between 1995 and 2000, a time when it seems these cars were particularly popular.
However, there are also plenty of examples of newer models that have a high number of miles. This shows the newer models are just as reliable. Perhaps even more so, since they saw heavy use in a short time. One prime example is a 2016 model with over 440,000 miles!
Of course, we don't have as many examples to look to for the newest models. However, there is no reason to expect the Altima with its long and consistent history will suddenly make a U-turn.
Awards and ratings
As a popular car model that goes back such a long time, the Nissan Altima has numerous accolades and honorable mentions over the years. Some of the most notable awards it has are:
The Altima has also landed its fair share of "top" car lists from trustworthy sources like Autotrader, named one of the 12 Best New Cars of 2019, and Automobile Magazine, which named it among their 2019 All-Stars.
Who are Nissan Altimas good for?
As a four-door, midsized sedan, the Nissan Altima is as good a car as any for working professionals with a daily commute. With a good balance of comfort and a powerful ride, it's also suitable for lengthy commutes, or if you regularly need to travel long distances for business.
There's enough seating for 5 people, which makes it ideal for car-pooling or even dropping off the spouse and kids on your way to work. Of course, the limited trunk space that comes with a sedan means you might need a trailer for anything longer than a weekend getaway with the family.
You should note that there are some complaints about the quality of the materials used in the cabin, so it's definitely not a luxury car.
However, there are few other cars that are as good at "getting the job done" as the Nissan Altima. It's a solid choice as a long-term car for daily use, especially if you're going to rack up the miles.
The same goes for almost all the older models as well. If you want to stretch its longevity to the limit and you have the cash to spare, you can aim for a brand new one. However, if you need to go a bit cheaper, there are still plenty of older secondhand models in great running condition for sale.
So, are Nissan Altimas reliable or not?
This is the question anyone dreads to answer. Even the most reliable and trustworthy cars are likely to deliver a bad apple from time to time.
However, there seem to be few reasons to believe your next bad apple will be a Nissan Altima. To the contrary, it seems to be one of the most reliable and long-lived midsized sedan models in its class, rivaled only by the Honda Accord.

Show Nissan Altima Inventory