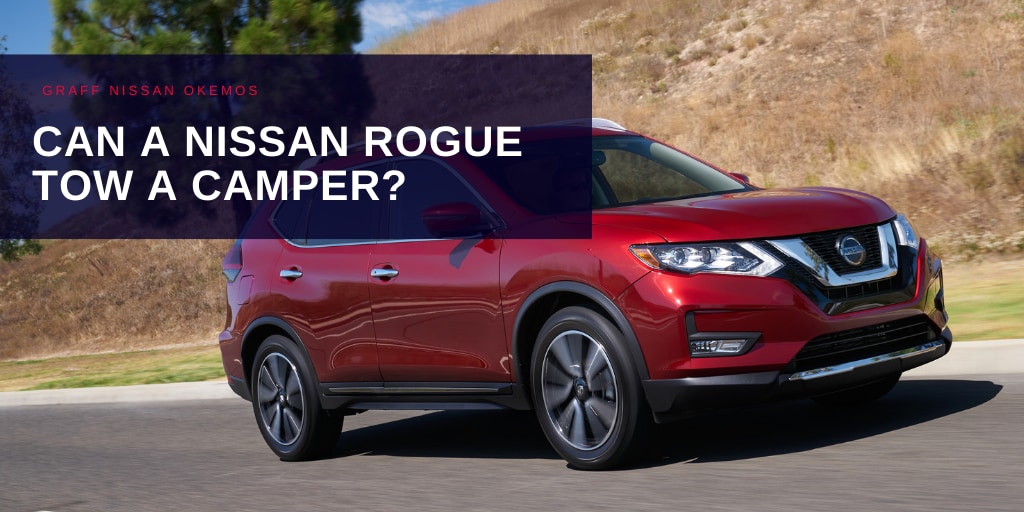 If you're looking at the Nissan Rogue but wondering about its towing capabilities, look no further. We've got your back. Today we'll be answering questions such as, "can a Nissan Rogue tow a camper?" We'll also look at some other things you may be interested in towing (or not interested in, just for laughs.)
After it's all said and done, you may have some needs that you'll want your next vehicle to cater too. And that's fine. We want to help you make the best decision possible before you go for any purchase.
A vehicle is a necessary expense for most. But it's not one to jump blindly into. So kick back and follow us along as we go on this exploration of what the Rogue can and cannot tow.
Can a Nissan Rogue tow a camper without any problems?
So let's look at the Nissan Rogue. Can a Nissan Rogue tow a camper without any problems?
Here's the scoop. The 2019 and 2018 Nissan Rogue's towing capacity is 1,102 pounds. The 2017 Nissan Rogue's towing capacity is 1,000.
While 1,102 pounds puts most campers out of the running, it does not put a complete damper on hauling campers. There are some small campers out there that your Rogue would be able to haul.
Some lightweight campers, according to trailer enthusiasts, fit the Rogue's specs. But you may wish to take the camper to a weigh station before you commit to a purchase, just to be sure. Additionally, keep in mind that it would be best, in most cases, to store your camping gear and bedding inside the Rogue rather than add weight to the trailer.
If you're OK with a camper that doesn't have standing ceiling height, take a look at the teardrop Little Guy or the Happier Camper. They can be hauled by the Rogue, but you won't be able to stand up straight due to a low ceiling.
Whether you're hauling a camper or boat, you'll find all sorts of trailer hitches on the market to help you get the job done.
There it is — a Nissan Rogue can tow a camper without any problems — but it's all about the model.
Can the Rogue tow a mobile home?
Yes, we're pulling your leg. On average, a 14' x 70' mobile home weights 24,500 lbs and requires the aid of professionals and the acquisition of special permits.
How about a tiny home?
While they are small, tiny houses often weigh between 2,500 to 8,500 pounds. So no, there's no way a Nissan Rogue will serve you well in that scenario.
Can the Nissan Rogue tow a pop-up trailer?
Yes! It depends on the pop-up trailer. For example, the SylvanSport GO camper weighs in at 840 lbs. That's perfect for your Rogue SUV.
A Nissan Rogue can tow a camper without any problems — even a pop-up trailer. It just depends on the model.
What about towing another vehicle with a car dolly?
Here's the deal. A Nissan Rogue weighs about 3,500 lbs. You're not going to be able to haul it with another Rogue. Vehicles are pretty hefty. If you're into hauling vehicles with a car dolly, the Nissan Rogue is not for you. You'll want to find a vehicle with better towing capacity.
Get a hand when you need it
Now you know what the Nissan Rogue's towing capacity is. And you have the answer to the question, "Can a Nissan Rogue tow a camper without any problems?"
We hope you're better empowered to make a good decision that fits your needs.
The Nissan Rogue is all about serving you by blending the best of both worlds found in a car and an SUV. It's an SUV, but it's compact, bringing you the benefits of a car such as its smaller size. It's always ready when you are with its Nissan Intelligent Mobility features to keep you safe as you sit behind the wheel.
So we talked about the Nissan Rogue, but what about the Nissan Rogue Sport? If you're interested in the Rogue, you should learn more about its length and why that matters. The sport can be a great alternative if you're someone who's going for a "sportier" vehicle. It's smaller, which means you're giving up space for an increase in performance along with a lower price.
The Rogue isn't the only great option
Now that you have the answer to your question, "Can a Nissan Rogue tow a camper?" note your other options. See what we have to say about the Sport and you'll have a better idea of what direction to go with your next vehicle purchase. We wish you the best.

Shop Nissan Rogue Inventory