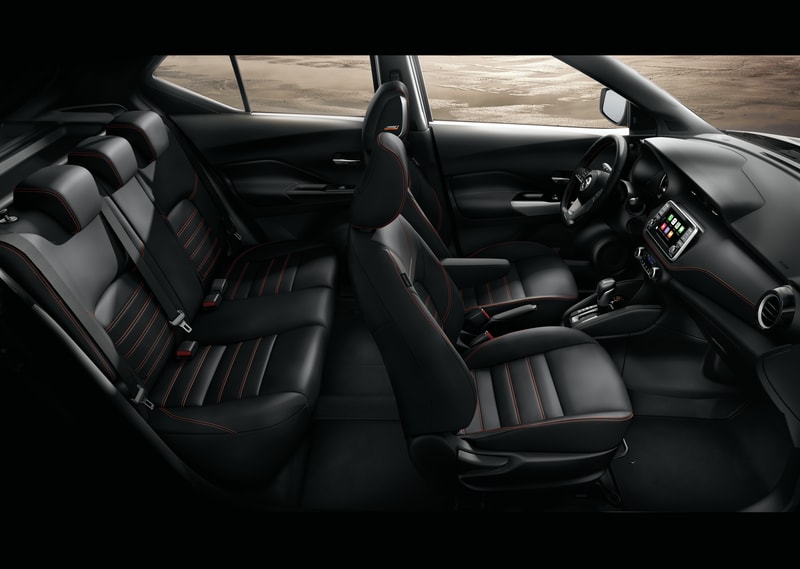 Sure, the Nissan Kicks looks great from the outside. Even better, the fact that you can choose the color scheme, means you can create exactly the impression you want. While this is great, its the Nissan Kicks interior where you will be spending most of your time. Specifically, behind the wheel.
After seeing it from the outside, you'd expect a great interior and driving experience to back up its looks. If you wisely want to find out about these vital aspects as well before customizing and buying your Kicks, read on.
Nissan Kicks Interior
The Kicks doesn't disappoint following its great first impression with a stylish, comfortable, and surprisingly spacious interior. With plenty of customization options, you can also have a say in creating a space that fits your aesthetics.
It might not win any prizes, but it's a design few people can find any fault with.
Capacity and Comfort
The Kicks is a subcompact crossover utility vehicle that seats a pretty standard 5 passengers.
Within its class, the Kicks is one of the best options if you want to stretch your legs and have some personal space. It beats virtually all its competitors (Toyota C-HR, Ford EcoSport, Honda HR-V) when it comes to headroom, front legroom, and cubic passenger room. However, the rear legroom does fall far behind some others.
You also have 25.3 cubic feet of cargo space with the rear seats up which is almost best-in-class. However, folding the rear seats down doesn't add much extra space so it's average in that regard. That makes the Nissan Kicks great for families or those with rear-seat passengers but just OK for one or two-person trips if you have a lot to pack.
All models have air conditioning while automatic climate control comes standard in the SV and SR. Heated front seats is also available as an extra. Some might feel that Nissan has used too much plastic and that some of it feel a bit cheap.
However, the SR comes with a leather-wrapped steering wheel and gear nob for a dash of luxury.
Design
Let's start with the first thing you see; the dashboard. Nissan opted for a gliding wing design with a floating screen design for the center console. It's a safe way to go and, while it's not breathtaking, its sleek and modern.
There are three main options for the upholstery. The Prima-Tex seating with contrasting stitching has a racy feel while the charcoal cloth with orange accents or white stitching is decidedly more old-school. Both work well, although the former is a bit more consistent with the rest of the modern interior.
Just like its exterior, you can also pick and choose the colors used in the Nissan Kicks interior. You can pick the color of the air vents, rear-view mirror, floor mats, and doorsteps from their color palettes (we love the black and orange combinations!).
Features
The Kicks also comes with most of the gadgets you'd expect from a modern crossover. A 6-way adjustable manual driver's seat and 4-way passenger seat comes standard as well as Bluetooth with hands-free calls and audio streaming. Three USB ports and an audio jack are available for charing or playback. Siri Eyes Free also comes standard so you don't have to fiddle with your phone when your eyes should be on the road.
The infotainment center consists of either the standard 7" touchscreen display or the premium NissanConnect version with Apple CarPlay and Android Auto (SV and SR). The driver will have all the most important controls within his reach on the steering wheel.
While it's not standard, the Kicks also features a Bose premium speaker system like many other new Nissan models. Speakers in the front seats' headrest do offer a superb listening experience.
To Drive
With a smaller engine than many of its competitors, the Nissan Kicks won't win many races. However, it does provide a quiet drive with responsive steering. It's a nimble little crossover that feels at home in the city, and not completely out of its depth on the freeway.
Under the hood
You aren't going anywhere without an engine, so let's first looks at what powers the Kicks. The Kicks only comes with a 1.6-liter DOHC 16-valve 4-cylinder engine. It puts out 122 horsepower and 114 pounds per foot of torque.
That's significantly less power than what's available with the Honda HR-V, Toyota C-HR,
Unfortunately, there is no AWD option which has almost become expected within the CUV class. You won't miss it when it comes to maneuverability but would've been nice to make the Kicks a bit more suitable for offroad. There also isn't a Hybrid version, although it does have fantastic fuel economy.
Overall experience
The Nissan Kicks' engine doesn't have the most powerful kick, excuse the pun. It does a decent job of pulling away at first, but you really need to put your foot down to go through the gears. It fits as a city car meant for short bursts of acceleration, but it can be a little frustrating on the open road.
Speaking of gears, the CVT (continuously variable transmission) does a good job of making smooth changes at the right times.
The switch on/off vehicle dynamic control and traction control systems will help you cope in less than ideal conditions. Automatic emergency breaks, a blind spot sensor, and a rear cross-traffic alert are also there to augment your awareness.
Small in stature but big on experience
In the Kicks, Nissan has managed to make a car that delivers a fun, engaging, and tailored-for-you experience. It has a better-than-average interior, in terms of looks, comfort, and functionality that's surprisingly spacious considering its diminutive stature.
It does struggle a bit to move through the higher gears and may struggle to keep up with more powerful cars on the open road. However, its compactness and nimbleness make up for it in other areas, resulting in a fun and engaging ride.
With most of the creature comforts on offer, it's a great little subcompact utility vehicle and the Nissan Kicks interior will make you feel at home wherever you take it.